*** ProShot Touch will no longer be available at BbTalkin ***
This page is for information only
Make your iPhone invincible with ProShotCase! Compatible with all GoPro mounts. Waterproof to 30 meters. High quality wide angle lens comes standard
ProShot is an ultra waterproof, durable, and shockproof housing for the iPhone that gives you the freedom to take your phone anywhere and capture any moment. ProShot can be easily mounted on almost any surface and is compatible with all GoPro® mounts.
5.5 inch Multi‑Touch HD Display allows you to see what you are filming at all times.
Instantly save, edit, and share your pictures and videos right from your phone.
Proshot Touch for iPhone 8 Plus Includes:
-Highly Polished Flat Lens
-Touch Screen Compatibility
-Waterproof Down to 30 meters!
-ProShot Lanyard
-Free ProShotCase App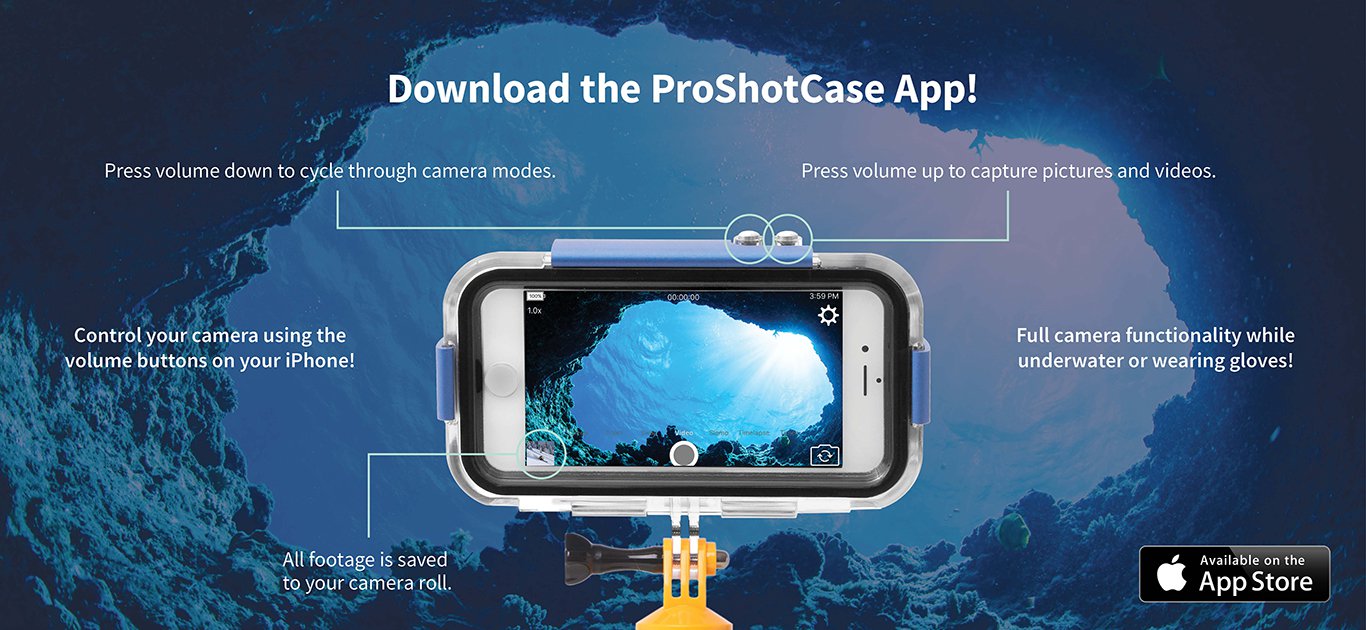 Download the ProShot Case App!
• Full camera functionality while underwater or while wearing gloves
• Volume down button cycles between camera modes
• Volume up button activates the camera mode
• Sleep mode saves battery when not in use!
• All pictures and videos stored directly to camera roll

Click the gear icon in the top right corner to access the settings screen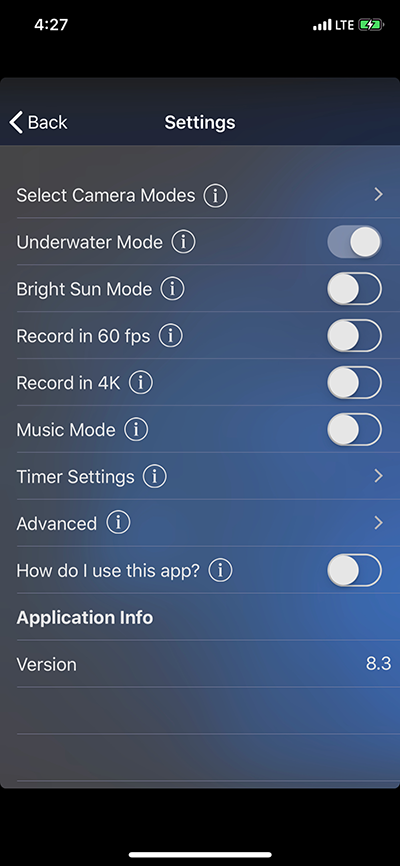 The ProShotCase app is very customizable to provide the best experience depending on the activity. We recommend getting familiar with the different settings and click the (i) to learn about each option.
Click "select camera modes" then choose which modes you want on the home screen.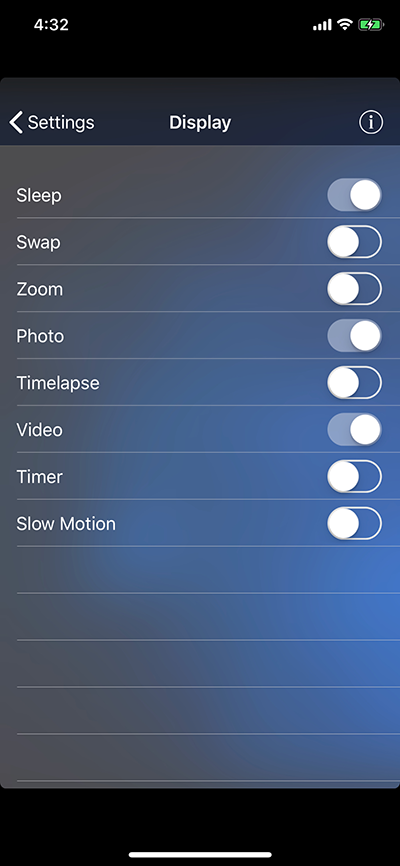 The volume down button will cycle through your modes and if you have too many camera modes selected it can take a long time to get to the desired mode. Only select the modes you expect to use most!
Underwater Mode is Highly Recommended for snorkeling and scuba diving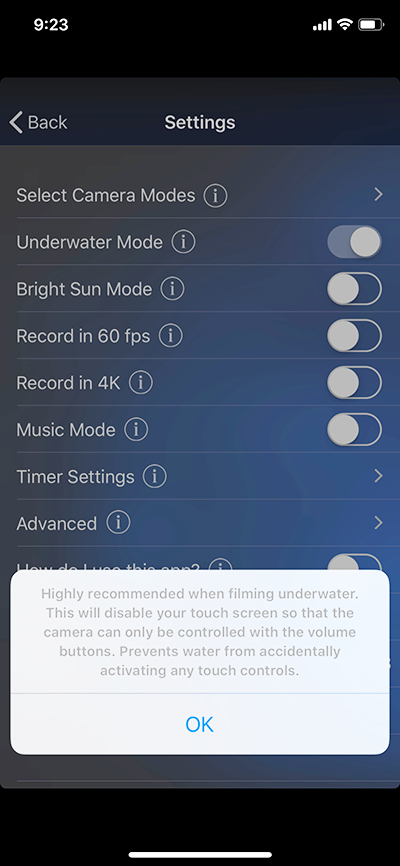 Water flowing over a touch screen can act like a finger and activate touch screen controls. Underwater mode disables all touch screen controls so you can control your camera with the volume buttons.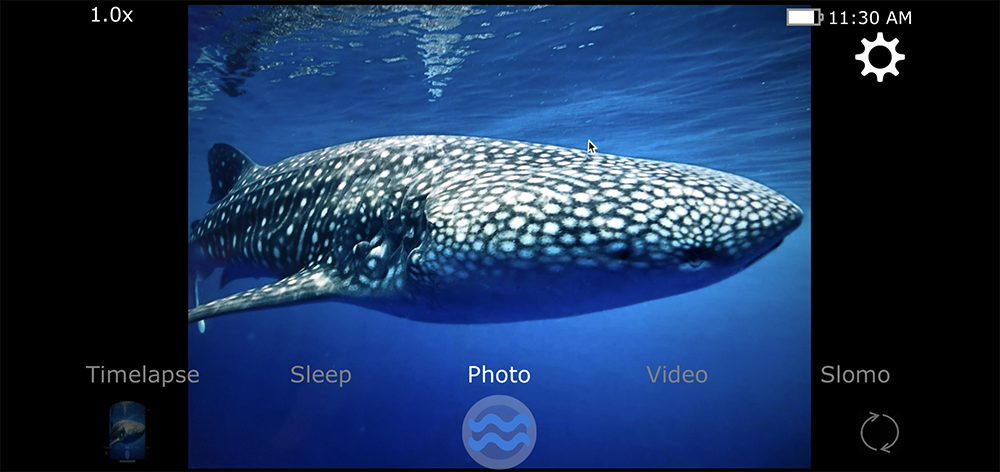 When Underwater mode is turned on the photo button will display a wave pattern to remind you to use the volume buttons to control the camera
To Turn off underwater mode click the gear icon at the top right then turn of underwater mode. The gear icon is the only touch screen control that will work while underwater mode is on.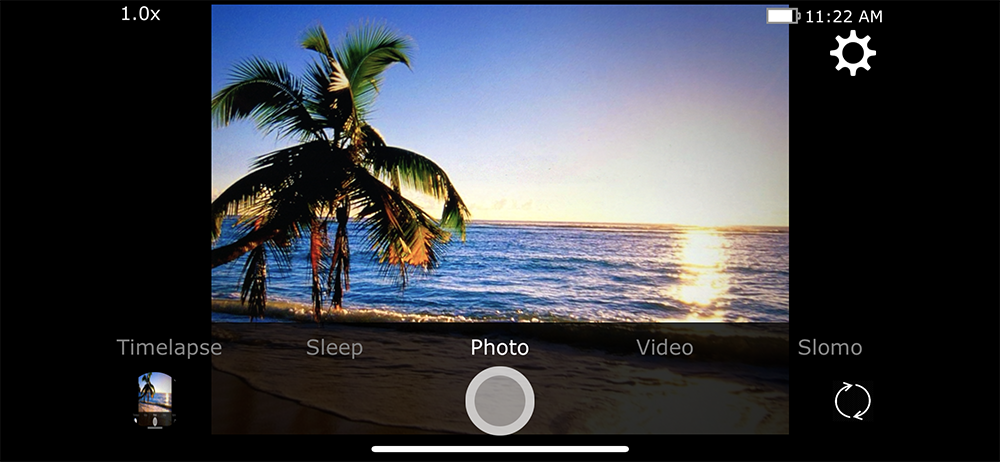 We recommend turning on bright sun mode on bight sunny days. This will put a transparent black bar behind the camera modes as shown in the picture above.