The new BbTalkin 3.0 intercom has arrived!
So what's new?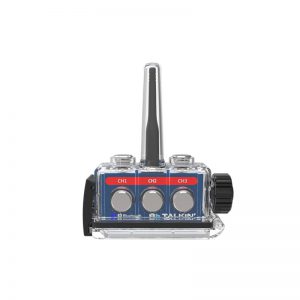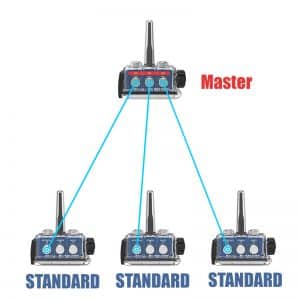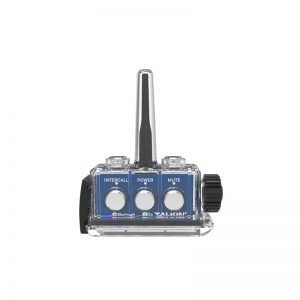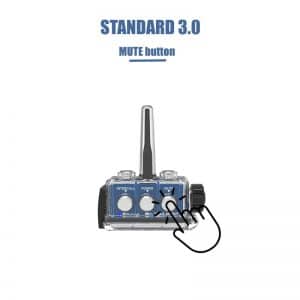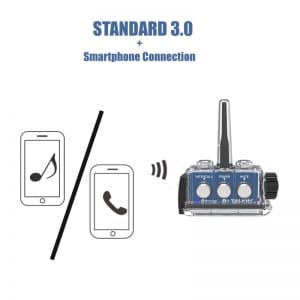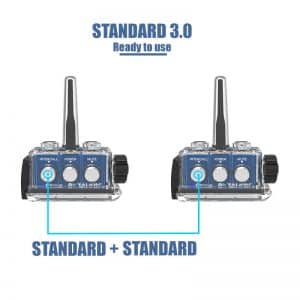 Our new BbTalkin 3.0 system has two devices. The MASTER 3.0 and the STANDARD 3.0 intercom. With the MASTER 3.0 the instructor or coach is in control of three channels. Each channel can pair with STANDARD 3.0 making a four person live conversation. The STANDARD 3.0 have a new separate button for mute. The general sound quality and the battery use has also been improved. All intercoms are equipped with the new USB C port. Read more bellow about the two different intercoms.
The NEW BbTalkin MASTER 3.0 intercom
The MASTER 3.0 has three channel buttons that ables you to connect other STANDARD 3.0 intercoms. With the MASTER 3.0 you are in control of connecting and disconnecting the three STANDARD intercoms. You only need a MASTER 3.0 when connecting more than two intercoms.
Important note on compatibility: The 3.0 Units are compatible with every BbTALKIN brand headset currently or previously sold. The new 3.0 Units will NOT wirelessly connect to any previous BB Talkin Unit.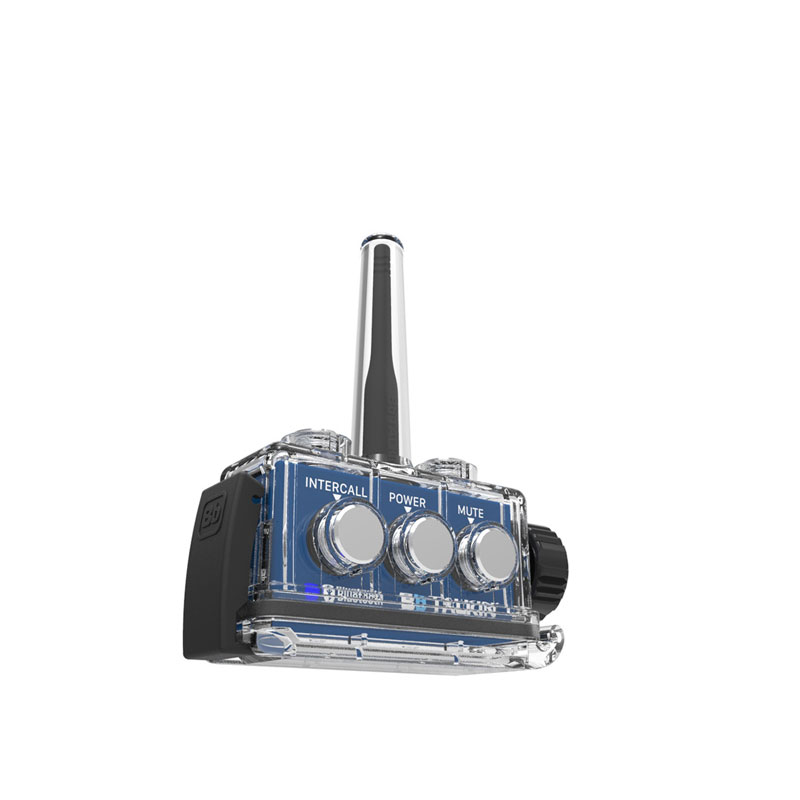 The NEW BbTalkin STANDARD 3.0 intercom
The STANDARD 3.0 has one intercall button to connect to other STANDARD 3.0 or the MASTER 3.0. The middle button is for powering on/off or pairing smartphone. The most right button is for easy muting. You are able to connect two STANDARD 3.0 intercoms. If you want to add a third intercom you needs the MASTER 3.0 to make the connection.
Important note on compatibility: The 3.0 Units are compatible with every BbTALKIN brand headset currently or previously sold. The new 3.0 Units will NOT wirelessly connect to any previous BB Talkin Unit.
New BbTalkin 3.0 software update!
Download the latest firmware for the BbTalkin MASTER 3.0 and BbTalkin STANDARD 3.0 (November 2023)
New features:
– Optimize microphone gain and overall performance.
– Standard unit can pair to the latest Iphone watch to listen to music and take phone calls.
– Standard unit can pair to GoPro12 to record 4 person's voice live. Before connecting the units, you must pair one Standard to the GoPro first, then connect the units.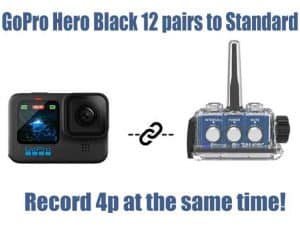 How does BbTalkin work?
General information
It's very important to understand how BbTalkin works. You can find general information about our Advance intercom and BbSpeaker here. Fin out about distance, how to use and maintain your devise and make sure you will let all users know. This will prevent stres full situations on the job.
Read more and see more video's about general BbTalkin product overview en instructions setup on the instruction page, like pairing, connecting devises and how to mount your advance intercom and headsets.
Distance when in group intercall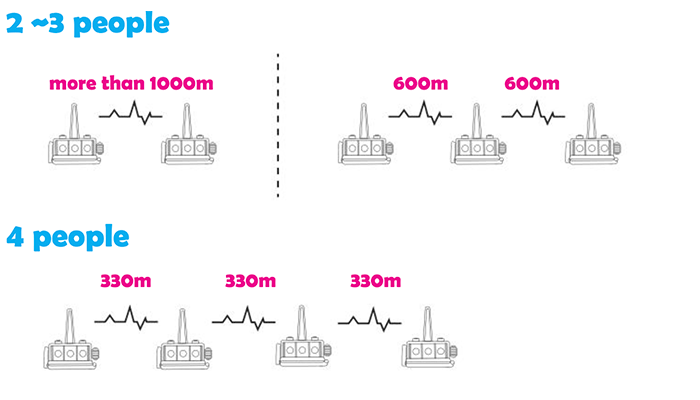 The limit is around 1000m in total in best situation. The more you connect, the less the overall distance.
Take a look at different situations and amount of intercoms connected to understand the maximum distance on bluetooth.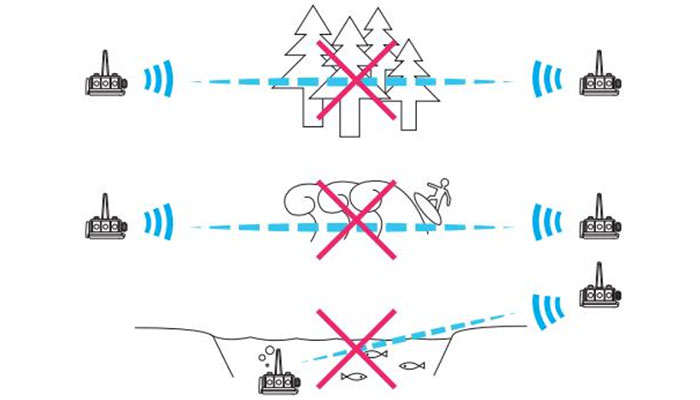 It is important to understand that Bluetooth only works in line of sight. Meaning you have to see the other intercom without any object blocking it's way. Even turning your head is an obstacle for bluetooth. The less obstacle you have the more distance the system can cover up to 1200m.
* Bleutooth is a 2,4 Ghz weak signal. It is impossible to go thru water, waves, trees or any other obstacle blocking the direct signal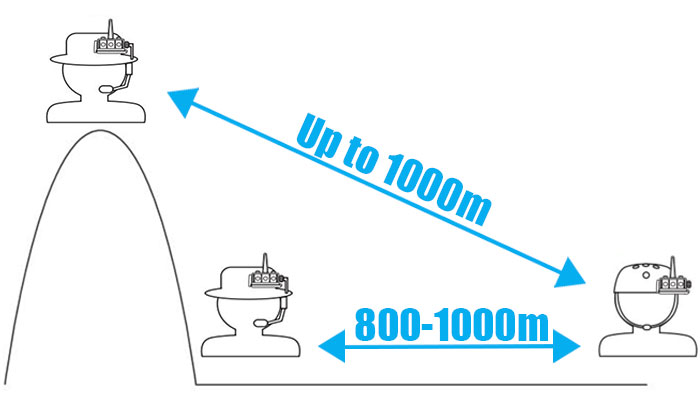 When using your advance on land. The higher you will stand on a hill or cliff the more distance you will have up to 1000m or more. When both intercoms are on ground floor. The distance will be between 800-1000m.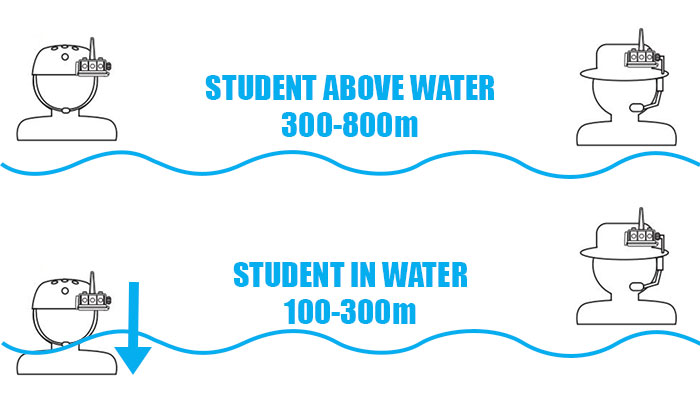 When both riders are on the water the distance will be between 300-800m. When the one of the riders is close to the water the distance will be 100-300m.
*All signals or antenna close to the water will make any signal weaker. 
POSITION ADVANCE INTERCOM HIGH ON BODY

Placing the intercom higher on the body increases the signal and distance. We always recommend to use the highest mounting position available. If the student goes low to the water with the intercom, signal strength will go down and you loose distance. When you submerge the intercom under water (with the arm mount for example) connection will be blocked, because the intercom is not in line of sight.
Easy cleaning and maintenance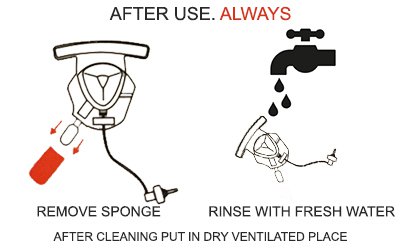 Make sure you clean and rinse your headsets with fresh water every day after using. Your device is being used in harsh conditions (UV sunlight, warmth, cold, moist, salt, water and sand). Before your rinse the headsets. Take of the mic sponge. After rinsing your equipment, dry all helmet pads and mic with towel before taking the intercom out. Place all wet headsets and accessories in a well ventilated dry room. Make sure they dry as much as possible (don't dry in direct sunlight). Always take the intercoms out of the case and keep them away from any moist coming from other equipment. Make sure your equipment is dry inside when installing.
How to choose the right BbTalkin setup?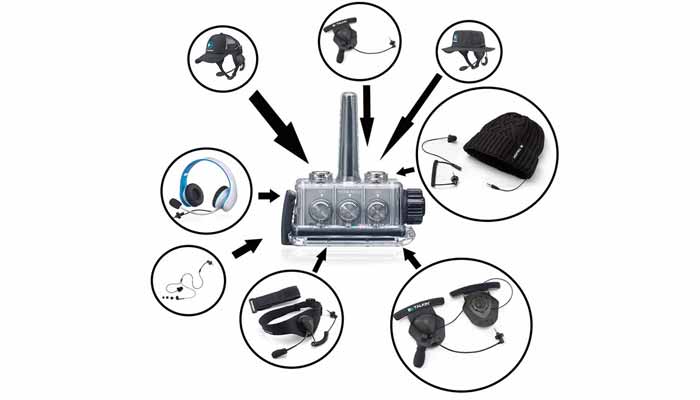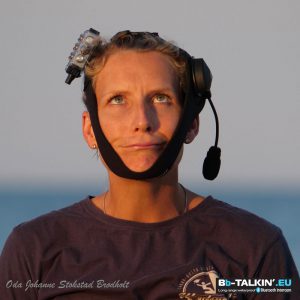 Step 1 Choose how many people you want to be part of the group conversation and buy for each a BbTalkin Advance intercom
Step 2 Choose for all users the right headset. IPX7 for water or IPX5 for snow. See here all available headsets. For using your own headset choose the S01 multi connector instead.
Step 3 Choose accessories or extra's if needed. Extra velcro and mounts for helmets or microphone and speaker replacements. You can find all accessories here. Or even an extra headsets for a different setup.
Looking for a pack? We have some pre made package ready to use for most common situation. Go take a look here.
Walkie Talkie or BbTalkin? How it will help your progression.
BbTalkin Advance Features
General information about our BbTalkin BbSpeaker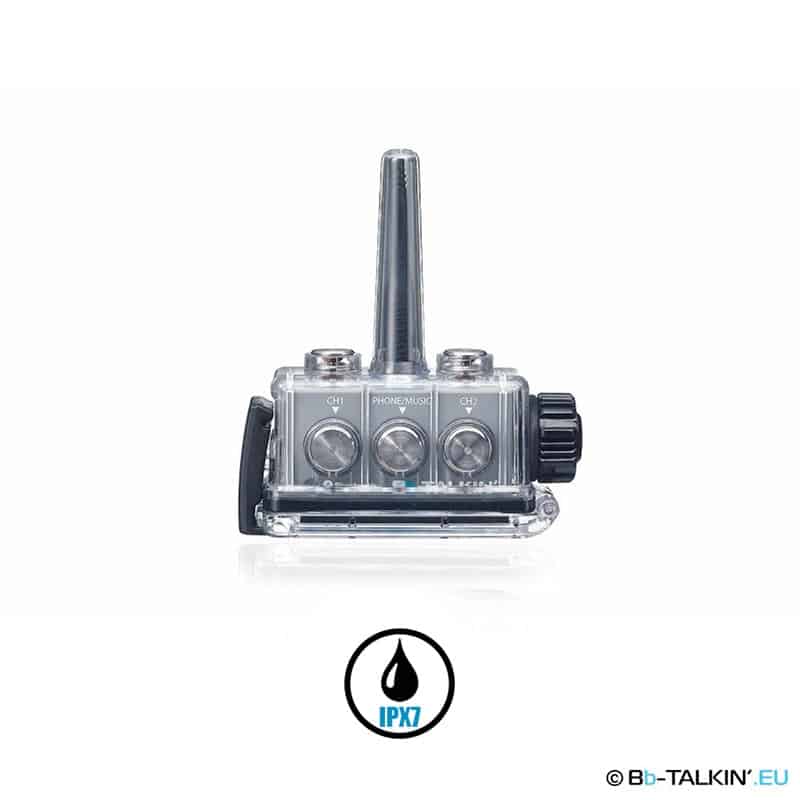 BbTalkin Advance, our flag ship. The best bluetooth IPX7 waterproof watersport communication devise on the market. Creating incredible progression and safety during coaching and communicating with colleague. You can stay in contact with your friends and family in live conversation, handsfree, while you share the fun. Our BbTalkin intercoms create a network with live communication established thru built-in Bluetooth connection. Crispy clear sound without disturbance of other communication devises.
That's not all! We have more!
Say goodbye to your old Walkie Talkie
BbTalkin BbSpeaker general information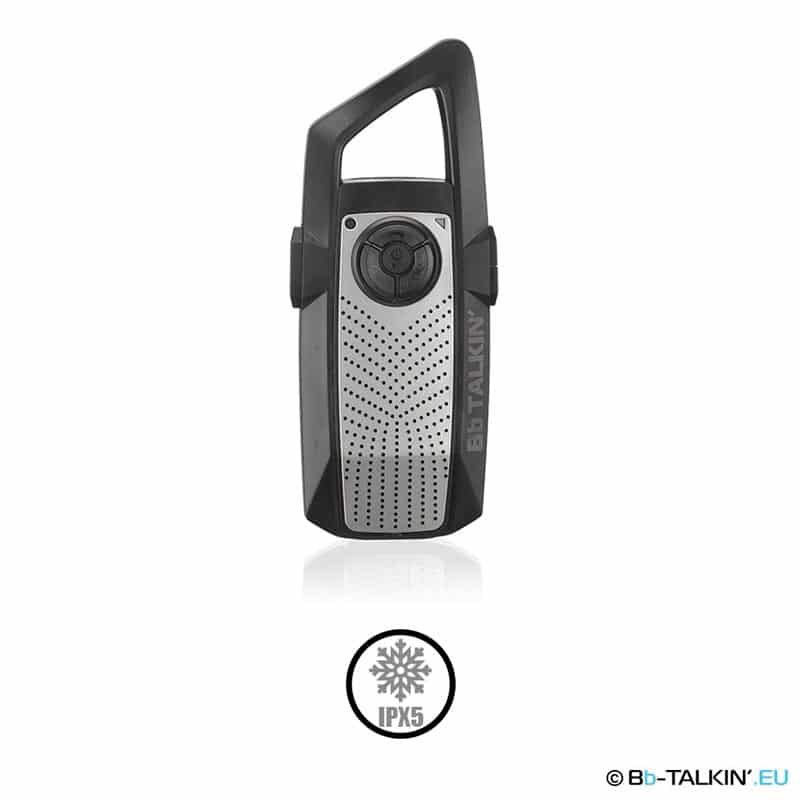 BbSpeaker is our most versatile communication devise. It's an ALL-IN-ONE devise. Connect the BbSpeakers or BbTalkin intercoms together and you have a live conversation up to 1200m via the integrated wifi network that the devises will establish. You can also use the BbSpeaker as a Walky Talky when connecting with your smartphone. It will replace your old Walky Talky and has unlimited range and connections thru the use of ZellApp. The BbSpeaker is also capable of turning into a music speaker. Connect you smartphone and play your favorite music.