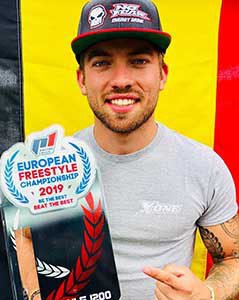 Niels Willems is one of the best Jet ski Freerider in the world and crowned with the first place in the European freestyle championship in 2019. We are proud of the fact he is using BbTalkin products and is part of our team for promoting our new IPX7 waterproof full face helmet headset.
Training the SUPER FLIP
Me, my coach using BbTalkin for all our training session
This is Niels Willems
Introducing his new jetski and sponsors
Niels Willems is originally from Antwerp – BELGIUM. His parents were running a watersport-shop and Niels got involved into the world of watersports at a very young age. He tried jetskiing for the first time when he was 11 years old and never stopped since then. A new passionate athlete was born! Niels was one of the youngest competitors in the history of jetskiing and managed to become European Champion in Amateur Freestyle class at the age of 16 years old. After this victory he joined the Pro's. In his Pro career he has seen a lot of highlights. He won the Belgian Championship several times, became Vice-European Champion in 2014 and 2015. And to top it off he became the new Pro Freestyle European Champion 2019. Niels is active as a jetski-performer and is giving Freestyle shows all over the world. Beside of that he gives jetski-lessons to riders of all levels. With his expertise in combination with optimal communication through Bb Talkin, he strives for an optimal and functional training program for each student. Niels is also active in other extreme sports as: skydiving, motor-riding, quad-riding and much more.
What BbTalkin does for me?
BbTalkin is a revolutionary, life-changing product for me. It's very easy to use. It makes communication on the water easy and fun. I use the bb Talking devices in 3 different ways: First it allows me to communicate with my coach or mechanic. When we're trying new tricks or when we're busy with the set up of the engine, we can talk to each other without being disturbed by the engine sound. Second, it's ideal to use when we're giving shows. I can get in contact with the show-manager or with my team mates. It's crucial to communicate during shows, we can't afford ourselves to make any mistakes while it's showtime. Third and last, I am using it to get in contact with my students. I can confidently say that the use of BbTalkin makes training so much easier. You can give your students tips and advice while they are still on the water which saves them trips to the shore. This makes every training a very functional and fun training. Once you've tried it, you can't imagine your trainings without it anymore..
New special design 
Check out our new BbTalkin product FULL HELMET HEADSET. The headset is equiped with beter quality earpods and a long boom mic for beter and easier mounting on a fully closed helmet. With the longer audio cable it is possible to mount the system on the top of the helmet for even more distance between the intercoms.
Go see the new product
Check out the showteam from Niels Willems at https://www.xtrememarinesports.nl/xtremefreestyleshowteam and book one of his amazing shows to stand out from the crowd when presenting your new products for example. Or just to show of with some spectaculair show on the water where acrobats perform there flips and tricks. During night time they use lasers, torches and LED lights to make the show even a bigger treat to the eye.
If you want to have some tips and tricks from one of the best riders in the world you can akways conact Niels at his instagram or facebook account and ask for private coaching. With the BbTakin set your progression will go sky high!
Go to the showteam site