Fun & sharing
With the whole family
Read more about BbTalkin Advance
Stay in contact
Share the fun!
Read more about BbTalkin Advance
Fun for all
Ride together
Read more about BbTalkin Advance
BLUETOOTH
THE BEST
WATERPROOF
INTERCOM
EVER
Coach without BbTalkin?
Read more about BbTalkin Advance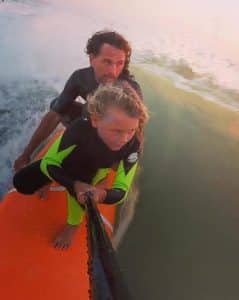 Who is this dynamic duo? Fred and Tao Compagnon are father and son. Fred is designated big wave surfer and travels all over the world the find the best waves to ride. Hi's 6 year old son loved to go with his dad and starting to become one of the best surfers there is. He's the youngest surfer engaging the big waves. Together with his dad he trains every week and progresses to become a pro surfer just lik dad. We are proud to be part of the journey. Surfs up Tao!
The Compagnon family are covering any aspect of free surfing : surf, bodyboard, drop knee, longboard, Stand-up paddle as well as the new way he invented to surf with Alaia boards on hollow waves on Indonesian paradise's best slabs. Fred and his family show that surfing is a real way of life.
Fred Compagnon is a Hossegor surfer who has invented an amazing new way to ride waves by combining his passion for stand up paddle boards and the finless strips of wood called alaias. When the waves get huge He paddles out with both boards and does step-offs from the SUP onto the alaia. It's weird, its wonderful, it's very, very gnarley. Check out the tubes he gets on a finless plank of wood that's about a quarter inch thick! Fred is an amazing waterman doing some unbelievable things in the waves so keep him on your radar.
Fred & Tao Compagnon "surf is life"
What BbTalkin does for me?
The intercom is a new way of staying in contact with Tao. I can give him the direct feedback to improve his ride. One of the coolest things we can keep talking when paddling out and sharing the moment with my son. The product is great! It works like a charm and gives us what we need. More fun and lots of progression in our sessions. We use the 3-way option sometimes to be able to stay in contact with our wife that often stays on the beach but is able to share the moments with us. Our family is close and surfing is important. Bringing all together is amazing!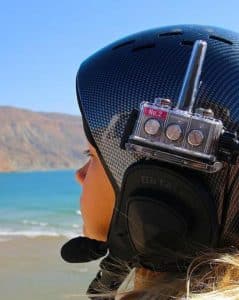 Fred Compagnon developed a new kind of way to ride the wave using a really thin wood board. Called the Alaia. His goal is to get deeper in the tube of a wave. To get on the wave you need a SUP board to start from. Getting on the wave with the Alaias is amazing. The feeling is so different and more direct and gives wave surfing a new feeling. It's fun, it's weird the sensation is gnarly! Who don't want to be surrounded by a massive tube and even go deeper in.