Extremely high durability
What every rider needs
Read more about BbTalkin Advance
Boost your performance
Get out and ride hard
Read more about BbTalkin Advance
Fun for all
Ride together
Read more about BbTalkin Advance
Coach without BbTalkin?
Read more about BbTalkin Advance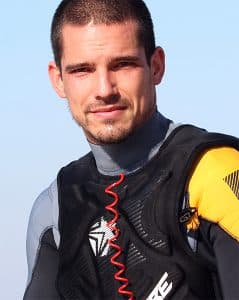 François Lavergne is one of the best Jet ski Freerider in the world. He Finished at the 7th place in Overall World tour 2018 and make a really good 2nd place at the last step of the 2018 world tour in Japan. We are proud of the fact he will use BbTalkin products to upgrade his progression during training with his Manager.
François Lavergne is originally from Thouars – FRANCE, and start competition of jet ski freeride in 2015. In 2016 he finished at 6th place in Overall world tour and was vice European champion. 
 2017 and 2018 he finished at the 7th place in Overall world tour and 3rd in European.
In parallel with the Jet ski he is Firefighter in Paris, his life is all the time take lot of risks and have adrenaline but always with a lot of care about safety.
Actually working all the time on new tricks and perform his style riding with his manager Pierre Merkes. They are working together for make a better result every year and teach some others new young rider in this industry.
What BbTalkin does for me?
BbTalkin is a really good and amazing product. This product help me to keep contact during my training on my jet ski with my Coach. He can help me all the time to correct my tricks and style riding and communicate about technique. It connects me directly to him and I can talk with him because we used product with microphone together and its really easy for me to explain to him my feeling about the waves and my jet ski. Progression with this product gonna be amazing. We are focusing to make some training camps for learning jet ski and freeride jet ski for every rookie rider want to learn this sport. With this product the new riders can be progress really quickly and in really good conditions.
New special design 
Check out our new BbTalkin product FULL HELMET HEADSET. The headset is equiped with beter quality earpods and a long boom mic for beter and easier mounting on a fully closed helmet. With the longer audio cable it is possible to mount the system on the top of the helmet for even more distance between the intercoms.
Go see the new product