Have no Fear Xmas is here (-10%)
Have no fear Xmas is here
with a nice 10% discount coupon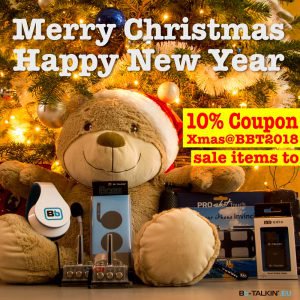 Finally the good old jolly times has arrived. And to make it a bit warmer.
BbTALKIN Europe wishes you a merry Christmas and a Happy New Year. 
We decided to give discount on all our items. Including the SALE items on snow.
Your discount can go up to 20-30% 
What are you waiting for? 
Surprise someone with the best communication available in the world. 
Use coupon at checkout: Xmas@Bbt2018