Descripción
The BbTalkin kitesurf and windsurf advance pack 2-way is a pack for 2 people. Ideal for kitesurfing, flyboarding, wakeboard, windsurf, sup, bike and many more kinds of outdoor extreme sports not mentioned. With the waterproof BbTalkin advance you can talk to your friends, listen to music or take a call when you connect your smartphone. You are able to record the conversation with the special BbTalkin Cam App or make a video call and connect to instructors all over the world. Combine this with the snow mic and snowspeaker option and you have the best sound available during your ride.
Connect your smartphone or camera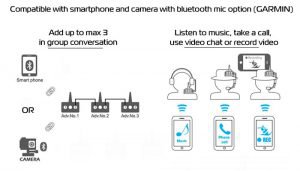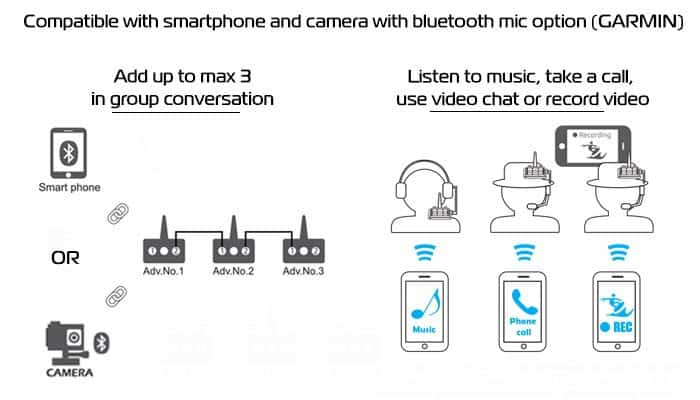 Connect your smartphone to your Advance intercom and make it interact with your smartphone. Take a call, listen to music or even make a video with the BbCam App. You can connect max 3 advance intercoms in a group with an smartphone or cam connected.
Connected with smartphone you can record a video or do FaceTime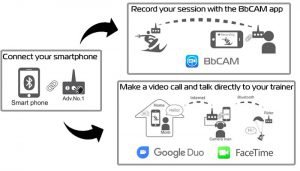 When connected with your smartphone and you want to record the conversation or make a video chat. You need to download the BbCAM App for video recording and use GoogleDUO or FaceTime for vide chat.
Place BbTalkin Advance as high as possible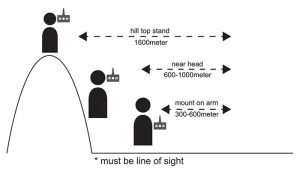 Place your device as high as possible for best quality in connection. Standing on a dune or cliff gives you the best result. The lower you are to the ground the less distance you wil have. This is the first rule for getting as much distance as possible.
Body position when on same level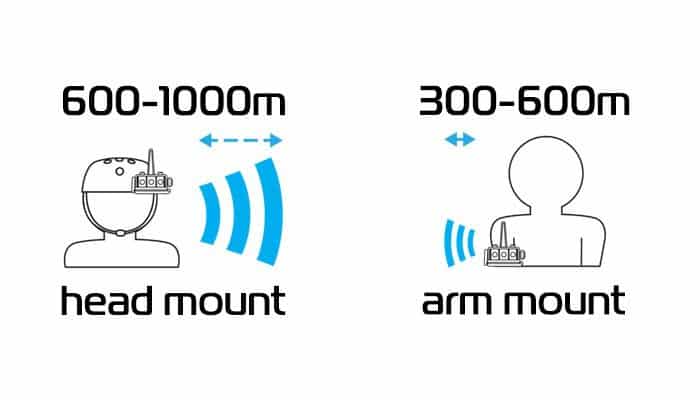 Placing the intercom higher on the body increases the signal and distance. If the student goes low to the water with the intercom, signal strength will go down and you loose distance. When you submerge the intercom under water (with the arm mount for example) connection will be blocked, because the intercom is not in line of sight.  
Bluetooth restrictions:
Stay in line of sight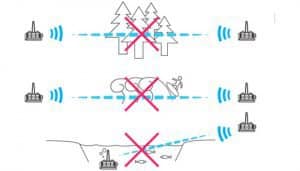 It is important to understand that Bluetooth only works in line of sight. Meaning you have to see the other intercom without any object blocking it's way. Even turning your head is an obstacle for bluetooth. The less obstacle you have the more distance the system can cover up to 1600m.
3 people or 4 people connected?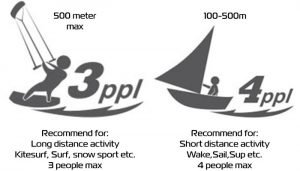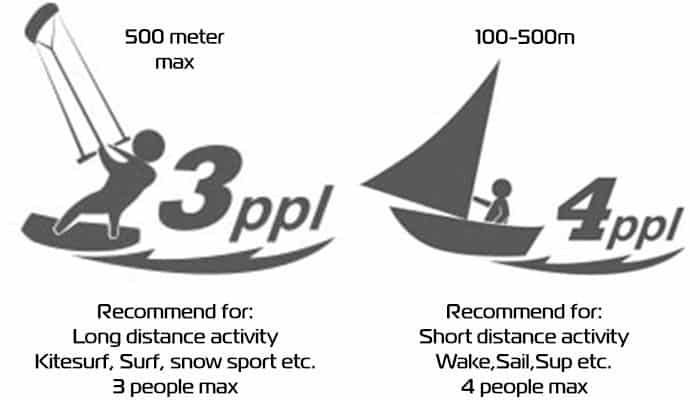 The limit is 1600m in total. When you divide the distance per intercom you will have less distance the more you attach. 1600:3=533 and 1600:4=400m. It seems to vary between 100m and 500m when systems are close. It also depends on how you link your BbTalkin intercoms.
6-way linking options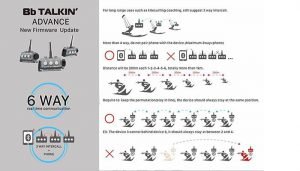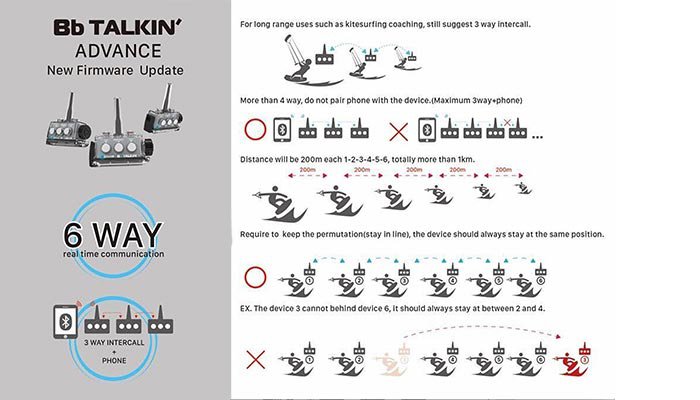 Since we have the advance upgraded. It's even possible to add up to 6 total in the group conversation. Remember to see how your devices are connected and how you maintain the best connection.
Maintenance:
Make sure you clean and rinse your headsets with fresh water every day after using. Your device is being used in harsh conditions (UV sunlight, warmth, cold, moist, salt, water and sand). Before your rinse the headsets. Take of the mic sponge. After rinsing your equipment, dry all helmet pads and mic with towel before taking the intercom out. Place all wet headsets and accessories in a well ventilated dry room. Make sure they dry as much as possible (don't dry in direct sunlight). Always take the intercoms out of the case and keep them away from any moist coming from other equipment. Make sure your equipment is dry inside when installing.
Read more information about trouble shoot, warranty, how to do's and other topics in 'support' and how does 'BbTalkin works' in the menu above.